Práta Slánaitheoir ©2005 Pegeen Shean
The harsh penal codes enacted in Ireland in 1695 against the Irish Catholics left them unable to practice their religion as well as striping them of their land and livestock, leaving them the potato as the main food source.
Just after constructing this assemblage, I read that 2008 was designated the "International Year of the Potato" by the United Nations. The mission of this noble distinction was to highlight the potato's importance as an inexpensive and nutritional food source in an effort to save lives from poverty and hunger. I began to think about this in the context of my family's Irish history.
The reliquary box houses a large "Russary", hand crafted potato shaped polymer beads containing the proper amount and formation as a Catholic Rosary, nestled in a bed of red velvet.
The inside of the reliquary box is ornate. The door is reminiscent of the Celtic Christian's illuminated texts, such as the "Book of Kells", with Práta Slánaitheoir (Potato Savior) painted in elaborate Celtic lettering.
The burnt umber stained exterior of the reliquary box is unadorned, not revealing the beauty that awaits the viewer inside.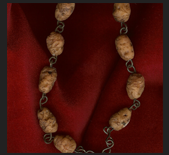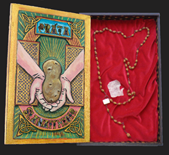 Original assemblage 21.5" x 13" pine box, polymer clay beads, wire, acrylic, red velvet fabric, wax paper. Russary Length 25.5" (Original not for sale)
Práta Reliquary
*
I have made this painting available for cards, prints (framed or unframed), and canvas prints. All are available in various sizes. Click on the companies below to see the products available with this artwork.